Basic Info:
Name: Rebecca
Age: 18
Sexual Orientation: Straight-Bi-Undecided
Shoe size: 9.5
Medium(s) of preference: Acrylic paint, ballpoint pen, wool, collage, beads, clay, textile-anything, truly. Especially if it involves using my hands alot.
Artistic influences (if any): My best friend, graphic designer
mcmanoos
Where you from: Upstate New York, currently living in Helsinki, Finland

Your Top 6
Places to visit: NYC, Helsinki Finland, the waterfall near my house in NY, Javas (a cafe in Rochester NY that posts amateur artwork all over their walls), the park near my home, my parents' home.
Places to eat: boyfriend's home cooking (at his house), parents home cooking (at their house), Don Pablo's, Taco Bell, Quizno's, China town in NYC
Things to eat: anything mexican, submarine sandwiches, taco bell, wild black raspberries, grapefruit, wonka candy
Bands: Daimien Rice, Everclear, Oldschool Nightwish, Death Cab for Cutie, Ted Leo and the Pharmacists, Big Leg Emma
Artists (in any medium; ie., photography, prose, installation, etc.): Scott westerfeld, Stephanie Meyer,
mcmanoos, jackson pollock, Tim Burton, Danny Elfman
Fashion Designers: Can't say I know any fashion designers. I am pretty much anti-logo and anit-fashion magazine, to some extent. It's very limiting and makes millions of girls all over the world feel terrible about themselves.

Other questions about you
Please describe yourself in under a paragraph: I am 18, graduated highschool, and currently wandering. I am living in Helsinki Finland for awhile and will be back in the states this summer, to travel within my own country more. I have no idea about what career I want to have, but I want to join a non profit organization such as the Peace corps. I think too much about everything from life to spirituality to art.
Do you have any goals for the future? I want to help the environment by living greener and promoting climate change awareness through my art. I am planning to start a small business upon my return home in which I use old materials (clothes, jewelry) to create new things, thereby making something beautiful to put out into the world, encouraging recycling and reuse, and having something fun and productive to put my mind to. And of course to lead a life full of adventure that makes for good stories.
Why do you think of yourself as a creative person? I am interested in (probably) too many kinds of art. I am a musician (vocal, clarinet, piano, drums), artist (painting, drawing), and craftsman (jewelry, clothes). I plan to study some visual arts in college and continue creating art throughout my whole life, whether it is my career or not. I also act on stage or help produce plays whenever I can. I am a writer: I have had my blog for almost three years and update regularly. I write prosetry and short stories as well. I love taking photos but am by no means a great photographer, I just get lucky and see beautiful things from time to time.


Random Questions
What are your feelings on Bright Eyes? The Band? Not sure what this question is.
Have you ever been to Riverside? No.
San Francisco? I plan to, it's the last stop on my cross country road trip next summer before I turn around. I might end up just staying there if I like it, though.
What is art? Art is the world through someone else's eyes or ears or fingers. It is the only thing in the world that makes absolute sense and no sense at all. It is beauty and ugliness and everything that the world is and is not.
Is art dead? Absolutely not. Never will be as long as human minds exist.
Do you think the gays should be allowed to get married? Absolutely.
Is Morrissey gay or asexual? Who the heck is that.


Behind the cut there are images of a random assortment of my works. Quite a few. Quite large.



Here is my senior art display. It is quite a mess. But it won third place out of about 50, for the works, not the display.




One of my proudest acheivments- a very large collge, a year long project. It was my school planner from junior year, a year that was an intense emotional roller coaster.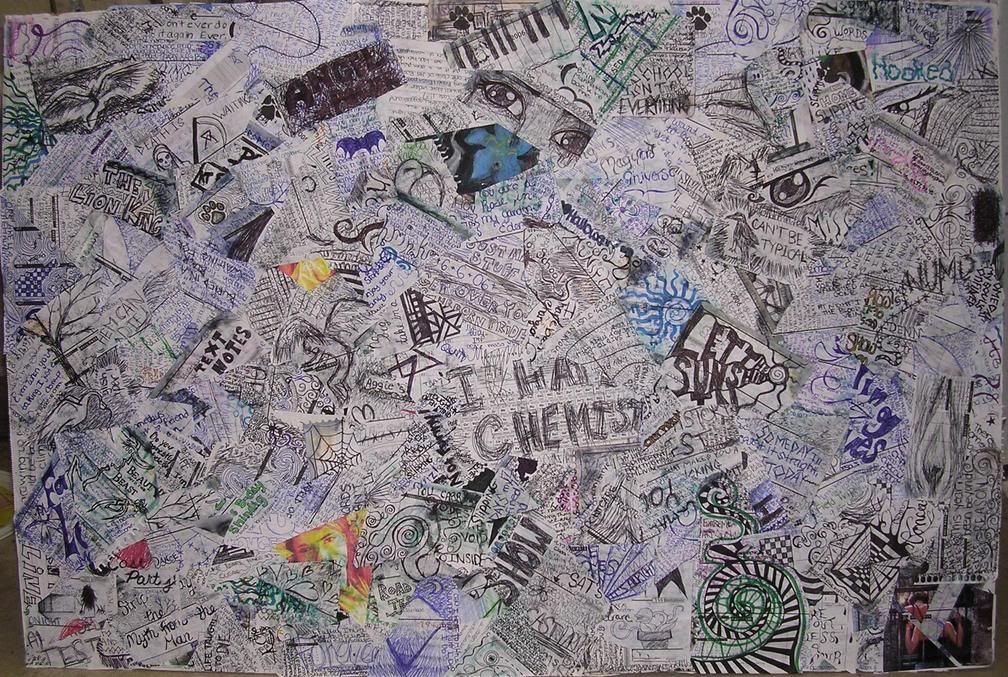 An unfinished assignment for my senior drawing and painting class. The whole thing was done in pencil.




A design I made sitting in the woods one day. A good representation of the works I often make. Free form marker design.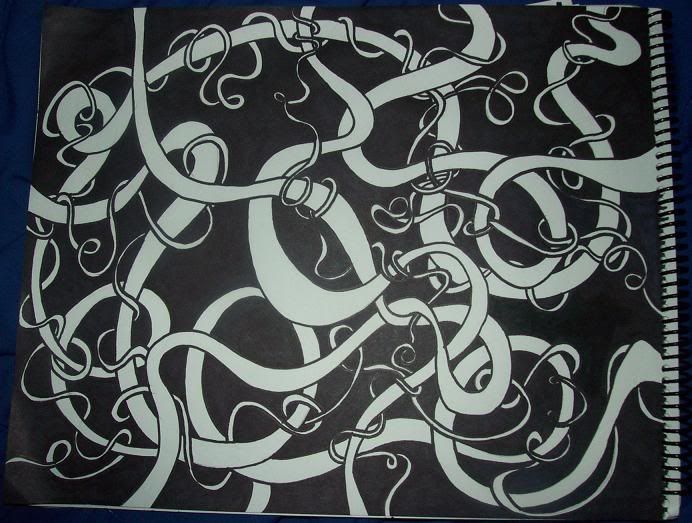 A photo taken on a ski hill in Finnish Lapland, in the arctic circle.




Another marker design.




A painting.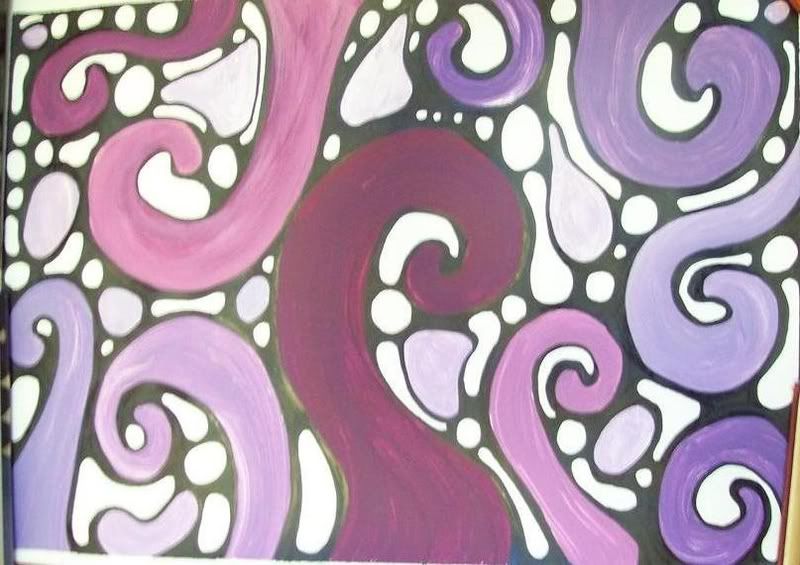 A bad quality photo of a painting I made yesterday.